Books and DISC Paper Instruments
The Universal Language DISC™
What is DISC?
The most comprehensive DISC manual in the world for understanding and applying principles of normal behavior based on the work of William Moulton Marston.

The Value of Learning the DISC Language?
History of the Language
Defining & Learning the Language
Reading the DISC Language
Blending the Language
Workplace Behaviors & Job Benchmarking
By: Bill J. Bonnstetter and Judy I. Suiter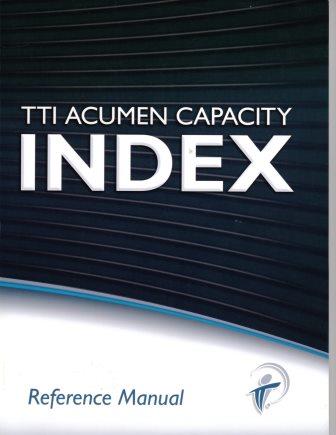 TTI Acumen Capacity Index Manual
The Acumen Capacity Index is based on the science of Axiology, from the original work of Dr. Robert S. Hartman. Axiology is a mathematically accurate science that objectively identifies how one's mind analyzes and interprets our experiences. It identifies how we are most likely to react in any given situation. It also helps us understand how we make judgments. This information allows us translate the results into quantitative measurements and scores, which can in turn be applies to the daily business world.
By: Rick Bowers, Ashley Bowers, Favor Larson

TTI's founder has revised his book on motivators to provide you with supporting material in your efforts to instill the understanding and appreciation of motivators in the workplace. This paperback book is a wonderful quick read that is easy to share with your clients. Paired with a motivators report, this will help them understand each of the six motivators in an enlightening fashion that includes a thought process about motivators and their significance in life and work.
By: Bill J. Bonnstetter
DISC paper Instruments & Workbooks
Personal Insights Profile

This glossy, self-scoring DISC instrumet allows you to measure an individual's behavior with a coin-scratch off questionnaire complete with instructions to hand score the instrument, plot your DISC graphs and help the person to understand their own and others' behavioral styles in order to improve communication with others. The Personal Insights Profile can be used for Team Building, Seminars, Training, Counseling, Mentoring, Customer Service, Management Development, Interpersonal Communications and Self-Development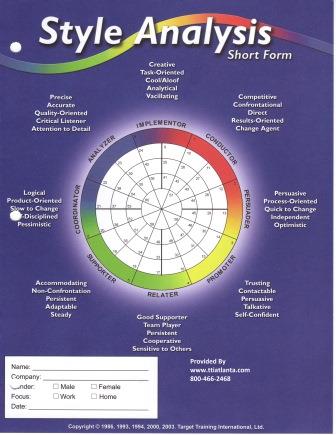 DISC Style Analysis Short Form
This booklet is a DISC based behavior instrument which is a self-scoring, coin scratch off tool that a person responds to in 10 minutes or less, then scores and graphs the results manually. When used in a business environment, the two graphs accurately reveal a person's behavior tendencies (Natural Style)which they would prefer to use when applying their skills and knowledge in their work environment and the behaviors (Adapted Style) presently being used that the person feels necessary in order to be successful at their current job. The best results are obtained when the graphs are interpreted by an individual trained and certified in the DISC language.